December 31, 2022
New Year's Eve
December 31, 2022, was a Saturday. It was the 365th day of 2022. The decade was the 2020s.
11 months and 10 days have passed since December 31, 2022.
The zodiac star sign for this date is Capricorn.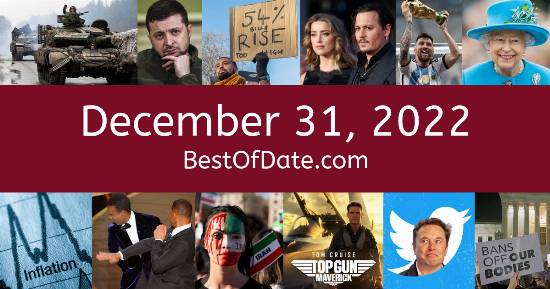 Facts
New Year's Eve 2022 occurred 344 days ago. Approximately 11 months have passed. It was the 365th day of 2022, in week 52. The decade was the 2020s. It was the last day of the year. A baby that was born on this day is now 11 months old. 4 seasons of weather have come and gone since then.
Take me back to December 31, 2022
Let's go back to the 2020s.
The date is December 31, 2022, and it's a Saturday. Babies who are born today will have the star sign Capricorn. The work week is over and Saturday has finally come, so people are spending time with their kids, going to bars, shopping, playing video games, and watching sports.
It's New Year's Eve, and everyone is wondering what the year 2023 will bring. In America, the song "All I Want for Christmas Is You" by Mariah Carey is at the top of the singles charts, while "Food Aid" by LadBaby is the number-one song in the UK. Joe Biden is the President of the United States, and the movie Avatar: The Way of Water is at the top of the box office.
Rishi Sunak is the Prime Minister of the United Kingdom. On television, people are watching popular shows such as "Grey's Anatomy". If you were to travel back to this day, notable figures such as Gianluca Vialli, Lisa Marie Presley, Lance Reddick, and Jerry Springer would all still be alive.
Children are playing with toys such as the Xbox Series X and the PlayStation 5.
Personality traits
Check out our personality summary for people who were born on December 31, 2022.
What are your strengths and weaknesses?
How old was I?
Find out what your age was on December 31, 2022, by entering your DOB below.
This information is not saved on our server.