December 21st, 1955
December 21st, 1955, was a Wednesday. It was Day 355 of 1955. The decade was the Fifties.
67 years, 9 months, and 6 days have passed since December 21st, 1955.
The zodiac star sign for this date is Sagittarius.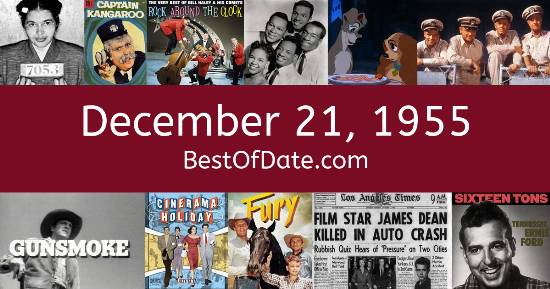 Take me back to December 21st, 1955!
Let's take a walk down memory lane.
The date is December 21st, 1955, and it's a Wednesday. Anyone born today will have the star sign Sagittarius. Christmas Day of 1955 is fast approaching and the excitement is building. Department stores are thronged with Christmas shoppers.
In music, the song "Sixteen Tons" by Tennessee Ernie Ford is the best-selling record at the moment. Dwight David Eisenhower is the President of the United States, and Sir Anthony Eden is the Prime Minister of the United Kingdom. On television, people are watching popular shows such as "What's My Line?", "The Gene Autry Show", "Our Miss Brooks", and "Gunsmoke".
It's 1955, so radio stations and jukeboxes are playing songs from artists such as Perez Prado, Bill Haley & His Comets, Mitch Miller, Roger Williams, Les Baxter, Bill Hayes, The Four Aces, The McGuire Sisters and Pat Boone. In fashion, women are sporting chemise dresses, sheaths, sack dresses and straight-cut suits. Short boxy jackets and shift dresses are also beginning to become popular. Meanwhile, a lot of men are sporting a "Teddy Boy" style that involves leather jackets, greased-back hair, extremely narrow trousers and velvet-collared jackets. Men are also wearing formal suits as daywear. Tailfins on cars are extremely popular at the moment. The design looks futuristic, almost like a rocket or the twin rudders on the back of an airplane.
Children and teenagers are watching television shows such as "Crusader Rabbit", "Winky Dink and You", "The Mickey Mouse Club", and "Captain Kangaroo". Children are playing with toys such as Dimestore soldiers, Colorforms, Feed the Elephant, and Mr. Potato Head.
Cars in 1955.
1955 saw the introduction of cars such as the Ford Thunderbird, the Chevrolet Task Force, the Ford Fairlane, the Pontiac Safari, the Ford Squire and the Peugeot 403.

Were you born on this date?
If you were born on this date, then it is unlikely that you will remember anything from the year 1955.
This is because humans find it difficult to retrieve memories of their early childhood.
If you are looking for some childhood nostalgia, then you should check out December 21st, 1961, instead.