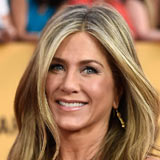 Which generation does Jennifer Aniston belong to?
Jennifer Aniston belongs to the Generation X demographic cohort.
"So she isn't a boomer?!"
Jennifer Aniston is not a boomer. The boomer generation ended in 1964, whereas she was born 5 years later in 1969. This means that she is a part of Generation X.
What is she known for?
She is best known for playing Rachel in the sitcom "Friends". She has also starred in movies such as Bruce Almighty, Marley & Me and Office Space.
How tall is she?
Jennifer Aniston is about 5 ft 5 inches tall. That is 164 in cm or 1.64 in meters.
Statistically speaking, this means that she is slightly taller than the average American female. However, she is not tall by conventional standards. For example, she is still smaller than most men.
See also: Celebrities who are 5 ft 5 inches.
What age will she be in 2023?
She turned 54 in February of 2023.
When will Jennifer Aniston turn 60?
She will turn 60 years old on February 11, 2029. That's roughly 5 years and 2 months from now.
When is Jennifer Aniston's next birthday?
Her next birthday will be on February 11, 2024. On that date, she will turn 55.
What day of the week was she born on?
She was born on a Tuesday.
How long ago did she break-up with Brad Pitt?
She has been separated from Brad Pitt for more than 18 years. The couple announced their split on January 7, 2005.
Other people who were born around February 11, 1969
Celebrities and other notable figures who are roughly the same age as Jennifer Aniston.
People who are taller than her
Celebrities and other figures who are slightly taller than her.

Actress
Born on July 2, 1986
Height: 1.65m / 5 ft 5 inches


Actress
Born on May 14, 1993
Height: 1.68m / 5 ft 6 inches


Brazilian soccer player
Born on April 10, 1973
Height: 1.68m / 5 ft 6 inches

People who are shorter than her
Celebrities and other figures who are slightly shorter than her.

Actress
Born on December 2, 1968
Height: 1.60m / 5 ft 3 inches


US Vice President
Born on October 20, 1964
Height: 1.61m / 5 ft 3 inches


North Korean leader Deceased
Born on February 16, 1941
Height: 1.60m / 5 ft 3 inches

---
Other Content & Useful Links
---
© 2014-2023 BestOfDate.com