December 18th, 1954.
December 18th, 1954, was a Saturday. It was day 352 of 1954. The decade was the Fifties.
67 years, 6 months and 6 days have passed since December 18th, 1954.
The zodiac star sign for this date is Sagittarius.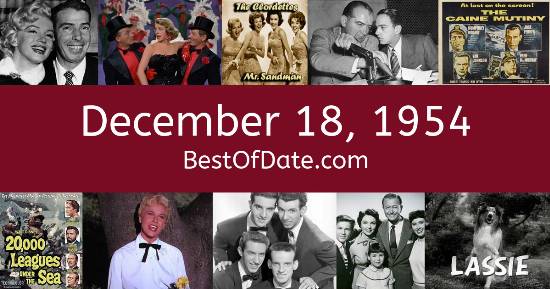 Take me back to December 18th, 1954!
Let's take a walk down memory lane.
The date is December 18th, 1954, and it's a Saturday. Anyone born today will have the star sign Sagittarius. Currently, people are enjoying their weekend.
The Christmas season of 1954 is in full swing. People are putting up their decorations and festive songs are playing on the radio. In music, the song "Mr. Sandman" by The Chordettes is the best-selling record at the moment. Dwight David Eisenhower is currently the President of the United States, and Winston Churchill is the Prime Minister of the United Kingdom.
In fashion, women are sporting the popular "The New Look" by Christian Dior. This formal style includes rounded shoulders, a full-skirted silhouette and a tight waist. Meanwhile, men are beginning to follow a new "Teddy Boy" trend that involves greased-back hair, extremely narrow trousers and velvet-collared jackets. Because it's 1954, anyone listening to a jukebox or radio station is likely to hear songs from artists such as Kitty Kallen, Perry Como, Rosemary Clooney, The Crew-Cuts, Jo Stafford, Eddie Fisher, The Four Knights, The Four Aces and Doris Day. If you were to travel back to this day, notable figures such as Albert Einstein and James Dean would be still alive.
On TV, people are watching popular shows such as "The Lone Ranger", "What's My Line?", "The Cisco Kid" and "I Married Joan". Children and teenagers are currently watching television shows such as "Looney Tunes", "Crusader Rabbit", "Lassie" and "Father Knows Best". Popular toys at the moment include the likes of Tonka trucks, Butch the Pup Toy, Colorforms and Pitchin' Pal.
Personality traits.
Check out our personality summary for people who were born on December 18th, 1954.
What are your strengths and weaknesses?
Cars in 1954.
1954 saw the introduction of cars such as the Vauxhall Cresta, the Pontiac Pathfinder, the Mercedes-Benz SL-Class, the AC Aceca, the Dodge C series and the Packard Pacific.

Were you born on this date?
If you were born on this date, then it is unlikely that you will remember anything from the year 1954.
This is because humans find it difficult to retrieve memories from their early childhood.
If you are looking for some childhood nostalgia, then you should check out December 18th, 1960 instead.