May 12th, 1983.
May 12th, 1983, was a Thursday. It was day 132 of 1983. The decade was the 1980s.
37 years, 11 months and 28 days have passed since May 12th, 1983.
The zodiac star sign for this date is Taurus.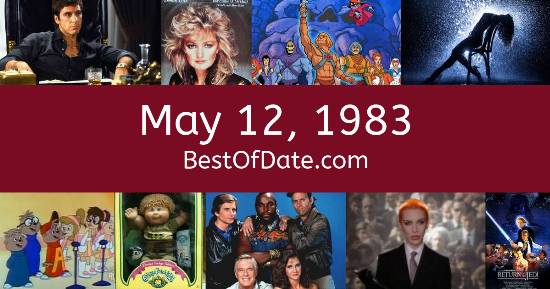 Take me back to May 12th, 1983!
Let's take a stroll down memory lane!
The date is May 12th, 1983 and it's a Thursday. Anyone born today will have the star sign Taurus. The summer of 1983 has finally arrived. The weather has warmed up and the evenings are brighter than usual.
In America, the song Beat It by Michael Jackson is on top of the singles charts. Over in the UK, True by Spandau Ballet is the number one hit song. Ronald Reagan is currently the President of the United States and the movie Flashdance is at the top of the Box Office.
In the United Kingdom, Margaret Thatcher is the current Prime Minister. In fashion, women are currently wearing jelly shoes, turtleneck sweaters, loose high-waist pants, crop tops and puffer jackets lined with fur. Meanwhile, men have been ditching the disco look of the 70s in favor of athletic clothing such as tracksuits and sports jerseys. The "preppy" look has also been making a comeback. Because it's 1983, the radio stations are being dominated by artists such as Culture Club, Michael Jackson, Irene Cara, David Bowie and The Police.
On TV, people are watching popular shows such as "Columbo.", "The Love Boat", "The Dukes of Hazzard" and "Knots Landing". Meanwhile, gamers are playing titles such as "Space Invaders", "Lunar Lander", "Missile Command" and "Donkey Kong". Kids and teenagers are watching TV shows such as "Diff'rent Strokes", "The Smurfs", "Danger Mouse" and "Fraggle Rock".
Popular toys at the moment include the likes of Hungry Hungry Hippos, Monchhichi / Chicaboo, the Commodore 64 and My Little Pony (figures).
1983 playlist.
A Spotify playlist of songs from the year 1983. Take a trip back to the days of Lionel Richie, Michael Jackson, the Police, Elton John and Phil Collins.