January 17th, 1984.
January 17th, 1984, was a Tuesday. It was day 17 of 1984. The decade was the 1980s.
37 years, 4 months and 0 days have passed since January 17th, 1984.
The zodiac star sign for this date is Capricorn.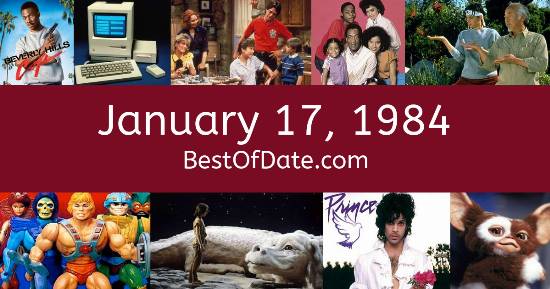 Take me back to January 17th, 1984!
Let's take a stroll down memory lane!
The date is January 17th, 1984 and it's a Tuesday. Anyone born today will have the star sign Capricorn. In America, the song Owner Of A Lonely Heart by Yes is on top of the singles charts.
Over in the UK, Pipes Of Peace by Paul McCartney is the number one hit song. Ronald Reagan is currently the President of the United States and the movie Terms of Endearment is at the top of the Box Office. In the United Kingdom, Margaret Thatcher is the current Prime Minister.
In fashion, women are currently wearing long sweaters, fishnet stockings, fingerless gloves, jumpsuits, over-sized scarves, miniskirts, stirrup pants and spandex cycling shorts. Meanwhile, men are wearing Hawaiian shirts, flannel, shell suits and wool sport coats. Because it's 1984, the radio stations are being dominated by artists such as George Michael, Stevie Wonder, Wham!, Cyndi Lauper and Frankie Goes to Hollywood. On TV, people are watching popular shows such as "Trapper John, M.D.", "Magnum, P.I.", "Only Fools and Horses" and "The Smurfs".
Meanwhile, gamers are playing titles such as "Space Invaders", "Lunar Lander", "Galaxian" and "Mario Bros.". Kids and teenagers are watching TV shows such as "Fat Albert and the Cosby Kids", "Happy Days", "Danger Mouse" and "G.I. Joe: A Real American Hero". Popular toys at the moment include the likes of Lite-Brite, Big Jim (action figure), Cabbage Patch Kids and the Commodore 64.