August 31st, 1996.
August 31st, 1996, was a Saturday. It was day 244 of 1996. The decade was the 1990s.
24 years, 8 months and 9 days have passed since August 31st, 1996.
The zodiac star sign for this date is Virgo.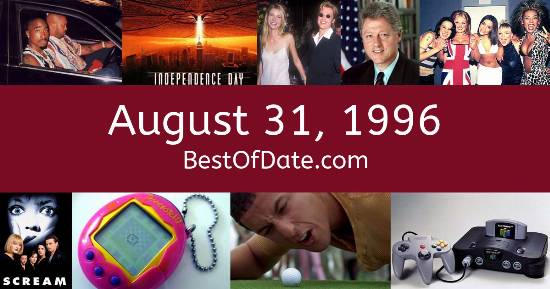 Take me back to August 31st, 1996!
Let's take a stroll down memory lane!
The date is August 31st, 1996 and it's a Saturday. Anyone born today will have the star sign Virgo. Currently, people are enjoying their weekend.
The summer of 1996 is coming to an end and fall is just around the corner. In America, the song Macarena by Los Del Rio is on top of the singles charts. Over in the UK, Wannabe by Spice Girls is the number one hit song.
Bill Clinton is currently the President of the United States and the movie The Crow is at the top of the Box Office. In the United Kingdom, John Major is the current Prime Minister. In fashion, "grunge" clothing has declined in popularity and women are beginning to wear form-fitting outfits such as slip dresses and pencil skirts. Movies such as Clueless and The Craft have popularized the "sexy school girl" look.
It's 1996, so radio stations are being dominated by the likes of Mariah Carey, Boyz II Men, Céline Dion, Oasis, Mark Morrison, Spice Girls, Los Del Rio, 2Pac and Coolio. Everyone and their grandmother is buying a new "virtual pet" called the Tamagotchi. On TV, people are watching popular shows such as "Last of the Summer Wine", "The Nanny", "ER" and "Gargoyles".
Meanwhile, gamers are playing titles such as "Air Combat", "Phantasmagoria", "Fade to Black" and "Die Hard Trilogy". Kids and teenagers are watching TV shows such as "The Simpsons", "Rugrats", "The Magic School Bus" and "Hang Time". If you're a kid or a teenager, then you're probably playing with toys such as Sylvanian Families, Littlest Pet Shop, 12" talking Buzz Lightyear Action Figure and Tickle Me Elmo.