August 12th, 1966.
August 12th, 1966, was a Friday. It was day 224 of 1966. The decade was the 1960s.
54 years, 10 months and 1 days have passed since August 12th, 1966.
The zodiac star sign for this date is Leo.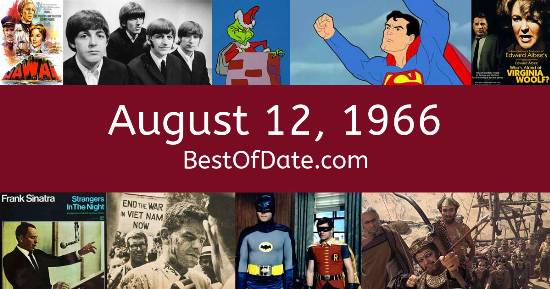 Take me back to August 12th, 1966!
Let's take a stroll down memory lane!
The date is August 12th, 1966 and it's a Friday. Anyone born today will have the star sign Leo. Currently, people have "that Friday feeling" and are looking forward to the weekend.
It's summer, so the temperatures are warmer and the evenings are longer than usual. In America, the song Wild Thing by The Troggs is on top of the singles charts. Over in the UK, With A Girl Like You by The Troggs is the number one hit song.
Lyndon Baines Johnson is currently the President of the United States and Harold Wilson is the Prime Minister of the United Kingdom. Because it is 1966, radio stations are playing hit songs from music artists such as Frank Sinatra, The Beatles, The Beach Boys, SSgt Barry Sadler, The Association and The Supremes. In fashion, a new "hippie subculture" has emerged, bringing with it laid back Bohemian styles. Frayed bell-bottomed jeans, Jesus sandals, crushed velvet suits and bright tie-dye t-shirts are all popular items of clothing at the moment.
On TV, people are watching popular shows such as "The Ed Sullivan Show", "What's My Line?", "The Andy Griffith Show" and "Dark Shadows". Children and teenagers are currently watching television shows such as "Captain Kangaroo", "The Mighty Hercules", "Ricochet Rabbit & Droop-a-Long" and "JOT the Dot". If you're a kid or a teenager, then you're probably playing with toys such as Tammy (doll), G.I. Joe: America's Movable Fighting Man, Rock 'Em Sock 'Em Robots and Suzy Homemaker.
Were you born on this date?
If you were born on this date, then it is unlikely that you will remember anything from the year 1966.
This is because humans find it difficult to retrieve memories from their early childhood.
If you are looking for some childhood nostalgia, then check out August 12th, 1972 instead.