December 11th, 2012.
December 11th, 2012, was a Tuesday. It was day 346 of 2012. The decade was the 2010s.
8 years, 4 months and 28 days have passed since December 11th, 2012.
The zodiac star sign for this date is Sagittarius.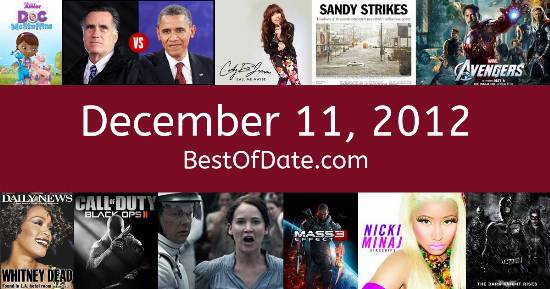 Take me back to December 11th, 2012!
Let's take a stroll down memory lane!
The date is December 11th, 2012 and it's a Tuesday. Anyone born today will have the star sign Sagittarius. The Christmas season of 2012 is in full swing. The decorations are up and festive songs are playing on the radio.
In America, the song Diamonds by Rihanna is on top of the singles charts. Over in the UK, The Power Of Love by Gabrielle Aplin is the number one hit song. Barack Obama is currently the President of the United States and the movie Skyfall is at the top of the Box Office.
In the United Kingdom, David Cameron is the current Prime Minister. It's 2012, so the music charts are being dominated by artists such as Carly Rae Jepsen, Gotye, Flo Rida, LMFAO and Ellie Goulding. Microsoft have released their new operating system "Windows 8".
Nintendo have recently released their new video game console "the Wii U". This is the first Nintendo console to support HD graphics. A number of people are using an old Mayan calendar to predict that the end of the world will occur on Friday, the 21st of December, 2012. The prediction is receiving a lot of attention on social media. James Arthur has just won the ninth season of "The X Factor".
On TV, people are watching popular shows such as "Futurama", "The Walking Dead", "Suits" and "Homeland". Meanwhile, gamers are playing titles such as "DayZ (mod)", "Sleeping Dogs", "Halo 4" and "Call of Duty: Black Ops II". Children and teenagers are currently watching television shows such as "Dora the Explorer", "Curious George", "Good Luck Charlie" and "Doc McStuffins".
Popular toys at the moment include the likes of the Xbox 360, the PlayStation 3, the LeapPad Explorer and the Wii U.
2012 playlist.
A Spotify playlist of songs from 2012. Let us bring you back to the days of Lorde, Carly Rae Jepsen, Swedish House Mafia, Avicii and Otto Knows.