January 4, 2013
January 4, 2013, was a Friday. It was the 4th day of 2013. The decade was the 2010s.
10 years, 11 months, and 6 days have passed since January 4, 2013.
The zodiac star sign for this date is Capricorn.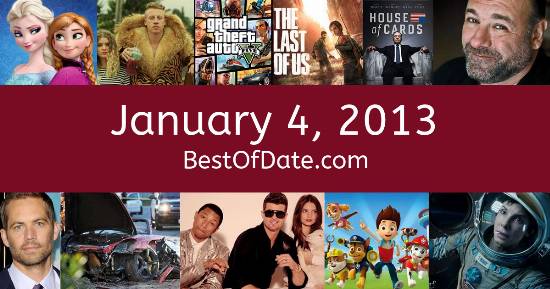 Facts
This date was 3,992 days ago. Approximately 133 months have passed. It was the 4th day of 2013, in week 01. The decade was the 2010s. A child born on this day is 10 years old and belongs to the Gen Alpha generation. The Earth has experienced 44 seasons of weather since then.
Take me back to January 4, 2013
Let's take a stroll down memory lane.
It is Friday, January 4, 2013. Anyone born today will have the star sign Capricorn. People have "that Friday feeling" and are excited for the weekend.
People are starting to return back to work and school after the Christmas holidays. In America, the song "Locked Out Of Heaven" by Bruno Mars is at the top of the singles charts, while "Impossible" by James Arthur is the number-one song in the UK. Barack Obama is the President of the United States, and the movie Texas Chainsaw 3D is at the top of the box office.
David Cameron is the Prime Minister of the United Kingdom. Video rental stores such as Blockbuster are continuing to close their doors at the moment. Sadly, it seems as though they will be unable to compete with online streaming services such as Netflix and Hulu. It's 2013, so the music charts are being dominated by artists such as Macklemore, Robin Thicke, Imagine Dragons and Bruno Mars.
If you were to travel back to this day, notable figures such as Aaron Swartz, Robert F. Chew, Chris Kyle, and Reeva Steenkamp would all still be alive. On TV, people are watching popular shows such as "Prison Break", "How I Met Your Mother", "Dexter", and "Modern Family". Meanwhile, gamers are playing titles such as "Diablo III", "Sleeping Dogs", "Halo 4", and "Far Cry 3".
Kids and teenagers are watching TV shows such as "Mickey Mouse Clubhouse", "Phineas and Ferb", "Glee", and "Jessie". Popular toys at the moment include Alphie (robot), DaGeDar balls, Little People Zoo Talkers, and HEXBUG Nano Hive.
Were you born on January 4, 2013?
If you were born on this date, then it is unlikely that you will remember anything from the year 2013.
This is because humans find it difficult to retrieve memories of their early childhood.
If you are looking for some childhood nostalgia, then you should check out January 4, 2019, instead.