January 18th, 2000.
January 18th, 2000, was a Tuesday. It was day 18 of 2000. The decade was the 2000s.
21 years, 3 months and 21 days have passed since January 18th, 2000.
The zodiac star sign for this date is Capricorn.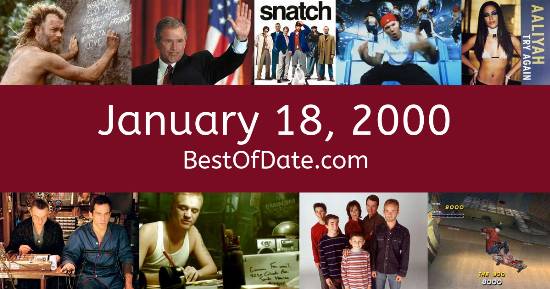 Take me back to January 18th, 2000!
Let's take a stroll down memory lane!
The date is January 18th, 2000 and it's a Tuesday. Anyone born today will have the star sign Capricorn. In America, the song What A Girl Wants by Christina Aguilera is on top of the singles charts.
Over in the UK, I Have A Dream / Seasons In The Sun by Westlife is the number one hit song. Bill Clinton is currently the President of the United States and the movie Stuart Little is at the top of the Box Office. In the United Kingdom, Tony Blair is the current Prime Minister.
The Nokia 3210 is currently one of the most popular cell phones on the market. Pokemon has become one of the most popular franchises in the world, as trading cards, toys and handheld games gross over one billion dollars. It's the year 2000, so the music charts are being dominated by the likes of Christina Aguilera, Faith Hill, Savage Garden, Destiny's Child, Santana, Sisqó, Creed, Aaliyah and Enrique Iglesias.
On TV, people are watching popular shows such as "Boy Meets World", "Star Trek: Voyager", "Stargate SG-1" and "Sex and the City". Meanwhile, gamers are playing titles such as "Final Fantasy VIII", "Resident Evil 3: Nemesis", "Age of Empires II: The Age of Kings" and "Unreal Tournament". Children and teenagers are currently watching television shows such as "Rugrats", "Sabrina the Teenage Witch", "The Angry Beavers" and "Bear in the Big Blue House".
If you're a kid or a teenager, then you're probably playing with toys such as the PlayStation (PS1), Groovy Girls, the Game Boy Color and the Dreamcast.
2000 playlist.
A Spotify playlist of songs from the year 2000. Take a trip back to the peak days of Britney Spears, blink-182, Faith Hill, Sisqo and NSYNC.