September 19th, 2000.
September 19th, 2000, was a Tuesday. It was day 263 of 2000. The decade was the 2000s.
20 years, 7 months and 17 days have passed since September 19th, 2000.
The zodiac star sign for this date is Virgo.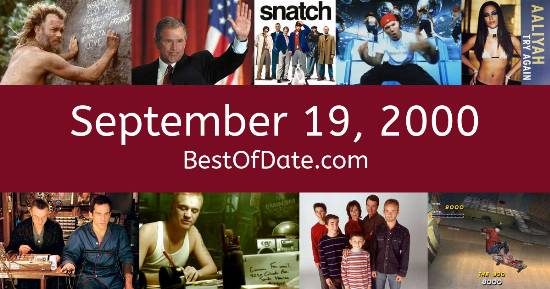 Take me back to September 19th, 2000!
Let's take a stroll down memory lane!
The date is September 19th, 2000 and it's a Tuesday. Anyone born today will have the star sign Virgo. Schools have started back and autumn has arrived, so temperatures have started to cool and trees are beginning to shed their leaves.
The earthy smells of fall have started to fill the air. In America, the song Music by Madonna is on top of the singles charts. Over in the UK, Lady by Modjo is the number one hit song.
Bill Clinton is currently the President of the United States and the movie The Watcher is at the top of the Box Office. In the United Kingdom, Tony Blair is the current Prime Minister. It's the year 2000, so the music charts are being dominated by the likes of Christina Aguilera, Faith Hill, Savage Garden, Destiny's Child, Santana, Sisqó, Creed, Aaliyah and Enrique Iglesias.
The Nokia 3310 is one of the most popular cell phones on the market at the moment. Stores across the world are currently selling a wide range of custom covers for the phone. Rock band Papa Roach have just released their single "Last Resort". On TV, people are watching popular shows such as "Buffy the Vampire Slayer", "Beyond Belief: Fact or Fiction", "The King of Queens" and "Futurama".
Meanwhile, gamers are playing titles such as "Resident Evil 3: Nemesis", "Age of Empires II: The Age of Kings", "The Sims" and "Diablo II". Kids and teenagers are watching TV shows such as "The Simpsons", "All That", "Dexter's Laboratory" and "Malcolm in the Middle". Popular toys at the moment include the likes of the PlayStation (PS1), Groovy Girls, Poo-Chi (robot dog) and Razor (scooter).