March 10th, 2014.
March 10th, 2014, was a Monday. It was day 69 of 2014. The decade was the 2010s.
7 years, 3 months and 8 days have passed since March 10th, 2014.
The zodiac star sign for this date is Pisces.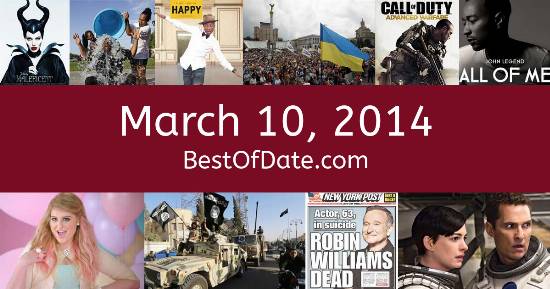 Take me back to March 10th, 2014!
Let's take a stroll down memory lane!
The date is March 10th, 2014 and it's a Monday. Anyone born today will have the star sign Pisces. Spring has started to creep in and the days are beginning to get longer.
The song Happy by Pharrell Williams is on top of the singles charts in both the USA and the United Kingdom. Barack Obama is currently the President of the United States and the movie 300: Rise of An Empire is at the top of the Box Office. In the United Kingdom, David Cameron is the current Prime Minister.
Video rental stores such as Blockbuster are continuing to close their doors at the moment. This is due to the increasing popularity of online streaming services such as Netflix and Hulu. A social networking website called Vine is extremely popular at the moment. It is 2014, so the music charts are being dominated by artists such as Pharrell Williams, Katy Perry, John Legend, Iggy Azalea, Meghan Trainor, Lorde and Jason Derulo.
A new Internet slang phrase called "Sliding into your DMs" is becoming popular at the moment. Malaysia Airlines Flight 370 recently disappeared from radar and there has been zero trace of the missing aircraft despite a widespread search. On TV, people are watching popular shows such as "Dora the Explorer", "Prison Break", "Suits" and "Peaky Blinders".
Meanwhile, gamers are playing titles such as "The Last of Us", "Dota 2", "Saints Row IV" and "Batman: Arkham Origins". Kids and teenagers are watching TV shows such as "LazyTown", "Phineas and Ferb", "Doc McStuffins" and "Paw Patrol". If you're a kid or a teenager, then you're probably playing with toys such as the Wii U, the PlayStation 4, the Xbox One and Frozen dolls.
Were you born on this date?
If you were born on this date, then it is unlikely that you will remember anything from the year 2014.
This is because humans find it difficult to retrieve memories from their early childhood.
If you are looking for some childhood nostalgia, then check out March 10th, 2020 instead.